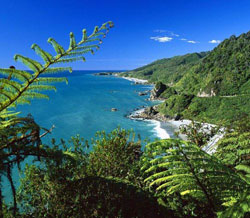 The West Coast Region of the South Island is a land of rugged coastlines, snow-capped mountains, lowland river valleys and temperate forests, rushing rivers and awe-inspiring glaciers. The West Coast has the largest area of protected land in New Zealand. In fact, the entire southern area of the West Coast has been designated as a UNESCO World Heritage Site: Te Wahipounamu, a lush region of fjords and beech forests and a sanctuary for rare birds.

So much of the West Coast's rich natural resources are available for people to enjoy and admire. Paparoa National Park is famous for its quirky Pancake Rocks, limestone formations that resemble stacks of pancakes. Hikers love to go up the twin icy masses of the Franz Josef and Fox Glaciers. Lake Matheson provides a perfect reflection of the glaciers and the mountains, and is the habitat of long-finned eels.
The West Coast has a rich mining history, and was once the site of a Gold Rush. One mining settlement was Seddonville, along the Charming Creek walkway that is still a popular hiking route today. Although there is still gold to be found here, the West Coast is now more known for the mining of coal and pounamu, or nephrite jade.
---