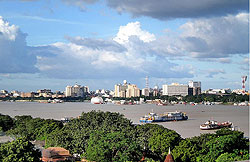 West Bengal has the third largest economy in India, although it is largely agricultural. But its capital, Kolkata, is India's largest and arguably most fascinating city - the capital of British India until 1911.

Ironically, West Bengal has been ruled by the Left Front for the past 30 years, making it the world's longest-running democratically-elected communist government.
West Bengal was painfully separated from its other, Muslim, half, in 1947 (though Muslims still make up 23% of its population). During the 1960s and 1970s, severe power shortages, strikes and a violent Marxist-Naxalite movement damaged its infrastructure, leading to economic stagnation. The Bangladesh Liberation War of 1971 brought millions of refugees to West Bengal, causing more strain.
Since 1977 the Left Front, led by Communist Party of India (Marxist), have governed for the state. Leftist rule slowed economic growth. But in the mid-1990s economic reforms introduced by the central government, and the election in 2000 of the new reformist Chief Minister Buddhadeb Bhattacharya, brought new economic dynamism.
Bengalis are famous for being intellectual. There is a long folk literature tradition. In the nineteenth and twentieth centuries modern Bengali literature flowered, with authors such as Michael Madhusudan Dutt, Rabindranath Tagore, and many others.
West Bengal has a tropical savannah climate in the south, subtropical in the north. Winter is brief, and is followed by summer, a rainy season and autumn. As West Bengal is mostly flat, rice-growing is important. Some interesting towns can be found in the tea-growing zones of Jailpaiguri and Darjeeling. However West Bengal's towns are mostly not of great interest to outsiders.
Kolkata (Calcutta)
Kolkata (Calcutta), was the capital of India until 1911, and was the centre of modern literature, art, education, science and industry as well as politics. Colonial buildings are interspersed with tall office buildings in Calcutta's Central Business District, many decorated with architectural motifs from different periods and cultures: Gothic, Baroque, Romanesque, Oriental and Indo-Islamic. Some have been declared heritage structures.
Kolkata is now a major IT hub, and West Bengal is the third fastest growing state in the country. Plenty of urban development is taking place. Many large condominiums and shopping complexes are being built. Most of the current residential buildings, including the colonial ones, are just a few stories high. But skyscrapers are now shooting up, such as South City's new residential buildings. There has been a lot of development along the Eastern Metropolitan Bypass.
Though Kolkata is now somewhat rejuvenated, like most large Indian cities it is plagued by urban problems. It is polluted and has bad traffic. The city has a population of over 15 million, and the main city area is incredibly dirty, its extreme poverty evident on its congested streets.
There always seems to be a strike somewhere, and every few weeks there are state-wide strikes. Except for the trains, all the traffic is stopped by the strikes.
Kolkata's main road, Mother Teresa Sarani (formerly Park Street) divides the city into two. The area north of this road is more crowded, while southern Kolkata has a somewhat more organized layout.
There are several important museums. The Indian Museum, founded in 1814, has impressive natural history and art collections, and also enjoys the prestige of being Asia's oldest museum. Victoria Memorial chronicles Calcutta's history. There are also art galleries. There are some large gardens.
The Maidan
The Maidan, the green open space by the Ganges where the Victoria memorial is situated, is a favourite place for promenades.
The people of Calcutta love intellectual discussions and creativity is always appreciated here. With such an outspoken population, political graffiti is all over the place.
---