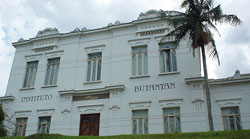 In São Paolo's West Zone (a prime area) sprawl the State's Palace, the University of São Paolo, and the city's largest football stadium.

Cidade Universitária, the largest campus of the University of São Paolo, is found in Butantã. Its sub-districts Morumbi and Vila Andrade have more museums than anywhere else in the city. Morumbi boasts of a number of immense mansions and posh residential buildings, and of course the Governor's Palácio dos Bandeirantes. One of the city's top commercial centres, Vila Andrade has many high-rises and entertainment and shopping centres.
Touring the Butantã, one is bound to visit the Museu de Arte Contemporânea at Rua da Reitoria. Science institutes, such as the Instituto Butantã and Instituto de Biociências, are of special interest to scholars of South American zoology and botany. Aficionados of Brazilian history and colonial architecture might stop at the Museu de Arqueologia e Etnologia at Avenida Prof. Almeida Prado, the Casa de Cultura Japonesa, and the Jockey Club of São Paolo, which features distinctive Italian fascist architecture.
Pinheiros, named after the Brazilian pine trees that once grew thickly in the area, is one of the city's oldest and most affluent districts. Here, Brazilian upper-class families make their homes in the opulent quarters of Jardins, Vila Olimpia, and Itaim Bibi. Museums, bars, restaurants, luxury boutiques, and cultural centres all cater to these exclusive neighbourhoods.
Jardim Paulista, Jardim Europa, and Jardim America, collectively known as Jardins , was created at the end of the 19th century, extending southwest from the prosperous business section of Avenida Paulista. Elegant villas and mansions dominate the neighbourhoods, and excellent restaurants and hotels line the Rua Augusta running through the district. The intersection of Rua Augusta and Rua Oscar Freire is São Paolo's premier shopping area.
First-class restaurants, chic nightlife, high-end shopping, and top art galleries are all trademarks of Itaim Bibi and Vila Olimpia . Though not as stylish as Rua Augusta, the nightclubs and bars along Avenida Rebouças and Rua Prof. Atilio Innocenti are trendy haunts for the younger set. The Brazilian luxury store Daslu and several multinational electronics and internet corporations keep offices in the district.
Home to descendants of blue-collar families who constructed the São Paolo Railway and the Sorocabana, Lapa is divided sharply into the Lapa de Baixo (Low Lapa), where railway workers' descendants live, and Alto da Lapa (High Lapa), home to the descendants of English railroad engineers. Perdizes, Sumaré and Pompéia in Alto da Lapa are fairly high-class boroughs.
---