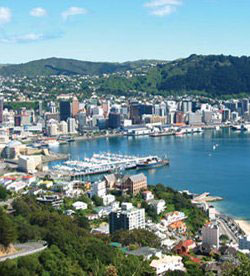 The Wellington Region on the southern tip of North Island is characterized by four roughly parallel topographic sections that stretch along a northeast-southwest axis. Each of these areas has its own economic significance.

The first section is the Kapiti Coast, consisting of plains running north from Paekakariki. Kapiti Coast is a major tourism destination because of its beautiful beaches. Moving inland, the second section is mainly rough hill country consisting of the Rimutaka and Tararua Ranges. Across the small coast plains and valleys of this section are two major populated areas, Wellington and Hutt Valley.
The third section is the hill country of Wairarapa along the Ruamahanga River, with its fertile farmlands. The fourth section is another strip of rough hill country, although much lower in elevation than Tararua Ranges.
Wellington enjoys the best of two worlds, the combination of lush beauty of nature and exciting, cosmopolitan urban life. A good example is the city of Wellington, the capital of New Zealand and the political and administrative centre of the country.
Wellington is also the centre for culture and the performing arts in New Zealand. Among its sites of great cultural interest are Te Papa, an interactive museum, and the childhood home of the nation's most famous writer, Katherine Mansfield.
With so many restoration and development projects ongoing in the region, it is no wonder that Wellington is a desirable place for people to live in and visit.
---