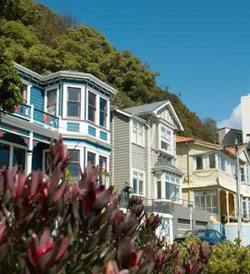 New Zealand's capital city, Wellington, has a verdant, hilly terrain, a rugged coastline and a stunning harbour. It is also a city of open public spaces on land and on the water—the harbour and waterfront, botanic gardens, forest reserves, play areas and parks, including a central park in the central business district.

Wellington is the country's political and administrative centre, having the Parliament, the government's ministerial and departmental offices and most embassies and consulates.
Wellington is also a city of culture, with museums that preserve the relics and artefacts of the Maoris and early European settlers, as well as contemporary works of art. Its homes and buildings are a mix of the old and new, from gleaming skyscrapers to old timber buildings such as Katherine Mansfield's childhood home and the Gothic-style St. Paul's Cathedral.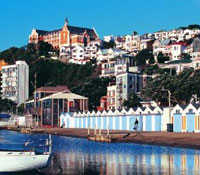 For electoral purposes, the city of Wellington is divided into five wards, each divided in turn into official and informal suburbs. The residential areas are divided into two sectors. The Inner Residential Area consists mainly of apartments and flats and renovated 19th century villas and bungalows. This sector is composed of the suburbs of Lambton Ward, and some suburbs from the other wards, including Island Bay and Mount Cook from the Southern Ward, Karori from the Onslow-Western Ward, Khandallah from the Northern Ward, and Kilbirnie, Miramar, Seatoun, Miramar and Hataitai from the Eastern Ward.
The second sector is the Outer Residential Area which is characterized by rural areas and detached, single-unit residences. It is composed of Broadmeadows, Johnsonville, Horowiki and Paparangi from the Northern Ward, Kaiwharawhara, Ngaio and Makara from the Western Ward, Newton, Vogeltown, Kingston and Owhiro Bay from the Southern Ward, and Seatoun, Breaker Bay, Melrose, and Rongotai from the Eastern Ward.
---