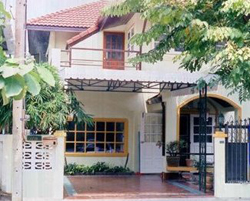 True to its name, which means "development", the Watthana District (a prime area) is among the most developed areas of Bangkok.

Watthana District was only formed in 1998 when it separated from the notorious slum area of Khlong Toei.

Watthana is defined by the main areas of Sukhumvit Road and Khlong Saen Saeb. It is a popular commercial district, and has a number of hotels and condominium buildings. Many expats choose to settle here.
Sukhumvit Road
The national highway Sukhumvit Road is Thailand's longest road. The portion that passes through Bangkok is its newest cosmopolitan area. Hotels, condominiums, and office buildings have been fast rising along it, and the Skytrain passes over it for several kilometres.

There are many upscale communities along the road, favoured by many expatriates and well-off Thais.

The residential areas along Sukhumvit Road are identified as Zones B, C and D. These zones include the many soi, or numbered side-streets, that branch off from the road. Zone B is a mixed development, although there is a stronger emphasis on commercial and tourist-themed activities. A significant portion of the expatriate community lives in this zone.
A good indicator as to the concentration of expatriate residents in Zone C is based on the soi number: the higher the number, the more concentrated the expat population. The lower soi numbers are where the hotels, serviced apartments and tourist destinations are located.
---