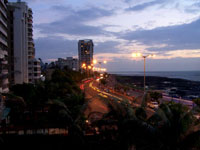 More often called Breach Candy or Warden Road, (prime area) this is an exclusive neighbourhood in South Mumbai. It is semi-commercial as well as residential. Connecting Pedder Road with Nepean Sea Road, this road runs along the coastline. The US Consulate and Breach Candy hospital occupy a substantial stretch of the sea front, while a couple of up-market residential buildings occupy the rest.
Many buildings on the eastern side of the road have converted their ground floor to shops and restaurants to cater to the well-heeled living in the neighbouring areas. Scandal point is a stretch of rocky beach where people park and enjoy the sunset of the Arabian Sea. This low-lying road often floods during Mumbai's heavy monsoons.
As it is a long road, which follows the Arabian Sea's curving coastline, it is a very scenic area, which accounts for the high prices of property here. There are many well-known landmarks on its length. These include the Breach Candy Hospital, the elite Breach Candy Club and various other buildings from British colonial times. Green spaces include the Amarson and the Tata gardens and the Priyadarshini Park. The 18th-century Mahalaxmi Temple, one of Mumbai's most famous temples, is found here, by the sea.
---