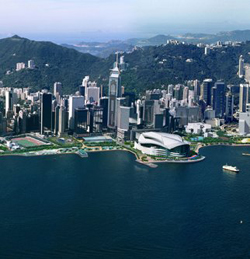 Only 170,000 people actually live in the cacophony of buildings in Wan Chai, (a prime area) but over half a million come here to work and to enjoy the shopping. It is strange to see decrepit, decades-old shophouses next to luxury office and condominiums here, but everything seems to work efficiently together. Wan Chai residents have the highest median domestic income in Hong Kong SAR.

The focal point of this district is undoubtedly the Hong Kong Convention Centre, with its futuristic swaying roofline jutting out over the harbour. Tall office towers also grace the skyline. Animated neon billboards light up the place, and a laser light show beamed from the tops of skyscrapers plays across the sky at dusk. This makes for a dazzling nightly visual feast that is best appreciated from across the harbour.
Wan Chai's main attractions are the huge shopping complex Times Square, the world-famous Happy Valley Racecourse, and the Hong Kong Stadium.
---