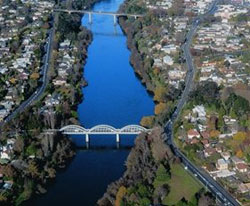 The Waikato Region refers to the area in the vicinity of Hamilton City that extends along the banks of the Waikato River and is bordered by the Tasman Sea.

The region is famous for its two natural landscapes—one above ground, the other underground.

On the surface, Waikato is a hilly region with fertile land, making it ideal for farming. In fact, the region is one of the leading food producers in New Zealand. Its main attraction is the Waikato River, the country's longest river. Guided tours on board a classic paddle steamer are popular with local and foreign tourists.
The city of Hamilton displays beautiful botanical gardens, each with a charming landscape theme based on the relationship between people and plants. These garden collections are named Paradise Garden, Landscape Garden, Productive Garden, Fantasy Garden, and Cultivar Garden. Hamilton is also the home of the wildlife conservation park Hamilton Zoo, which is specially noted for its giant free-flight aviary, and the Waikato Museum of Contemporary Art and History.
Waikato's smaller towns also have special places of interest. Raglan, a West Coach beach town, is a favourite among swimmers and surfers for its volcanic black sand beaches and left-hand breaks. Matamata has the Cambridge Thoroughbred Lodge and its famous Horse Magic Show. For the kids and the kids at heart, The Castle houses the country's largest collection of toys, teddy bears, and dolls. The Kiwi House, where the kiwi birds are bred in captivity, is in Otorohanga.
Underground, Waikato is a different world—dark, still and mysterious, with awe-inspiring vistas of limestone formations and grottoes illuminated by glow worms. The subterranean Waitomo Caves can be explored on barges or rafts, or by the more daring method of black water rafting—floating into the caves through inflatable inner tubes.
---