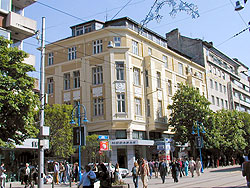 An enclave for the well-heeled Bulgarian elite, Vitosha (a prime area) features manicured lawns and dense foliage around quiet residential areas, making it one of the greenest areas in Sofia. Vitosha is full of stately homes, villas, and ritzy residential complexes.

The kind of premier living experience offered by Vitosha comes with a hefty price tag: it has some of Bulgaria's highest real estate prices, particularly in the neighbourhoods of Boyana, Dragalevtzi, and Simeonovo.

Vitosha sits at the foot of the majestic Vitosha Mountain, and sprawls out into 7 high-income neighborhoods: Boyana, Simeonovo, Dragalevtsi, Pavolovo, Buxton, Manastriski livadi, Knyazhevo, and the smaller villages of Vladaya and Marchaevo.
Boyana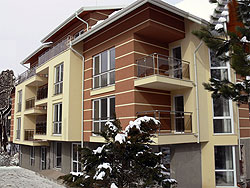 One of Sofia's most exclusive residential areas, Boyana has some of the highest property prices in the city.  It is favoured by many of Sofia's business and social elite as well as wealthy foreigners and diplomats. Upmarket residences in the area include Residencia Botanica, a service apartment complex with a garden, a fitness centre, a restaurant and a supermarket.

It is an old neighbourhood; its most venerable landmark is the Bulgarian Orthodox Boyana Church, whose oldest building (it consists of three churches) dates from the 10th century. Each of its churches houses fine examples of Eastern European medieval art.
From Boyana you can go further up the mountain to view the 15-meter-high Boyana Waterfall and the rock outcrop known as Kopitoto, on which a TV tower and a luxury hotel complex stand.
Simeonovo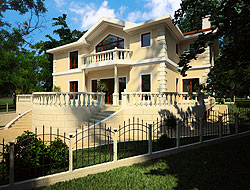 Situated above Sofia's ring road, at the foot of beautiful Vitosha Mountain, the district of Simeonovo is one of the city's most sought-after addresses. It has a beautiful view of the city. Properties in Simeonovo tend to be large houses and villas. Its proximity to the mountain only makes Simeonovo more attractive as a residential area.

Simeonovo has a big ski resort that has several luxury apartments and good skiing facilities.

The Business Park Sofia is in this neighbourhood. It consists of 35 office and commercial buildings and employs over 30,000. Simeonovo also has a substantial expat community.
Dragalevtsi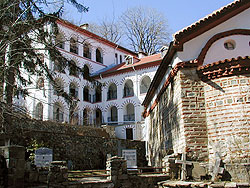 Once a village, now a quarter of the city of Sofia, Dragalevtsi is situated at the foot of Vitosha Mountain. The high-income exurb has a few prestigious apartment complexes with facilities such as a fitness centre and restaurants. With its proximity to the city centre and the Business Park Sofia in Simeonovo, Dragalevtsi is a favourite of white-collar workers.

The Dragalevtsi Monastery, also known as the Virgin Mary of Vitosha, was an educational centre and is still a working cloister today.
Pavlovo
Pavlovo is a southern neighbourhood of Sofia. The homes here are mostly low-rise; houses and small blocks of flats dominate the skyline. There are some new office buildings here as well. The 5th Primary School and the 157th High School César Vallejo serve the neighbourhood.
Buckstone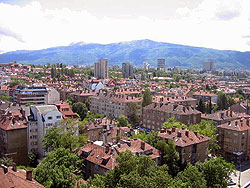 Fresh mountain breezes cool the neighbourhood of Buckstone at the foot of the Vitosha Mountain. Many of the residences here are in prefabricated buildings known as panelkas. Many of these were built in the 1960s, but the neighbourhood's level has risen quite a bit since then. It is now one of Sofia's more prestigious neighbourhoods, and new residential buildings have been built alongside new hotels and office buildings, schools, medical centres, shops, restaurants and a hypermarket. Another reason why it is a sought-after address is its relatively clean air—there are no factories here and the lovely Southern Park is close by.

Buckstone is close to Bulgaria Boulevard and the Sofia ring road, making it accessible from all points of the city.
---