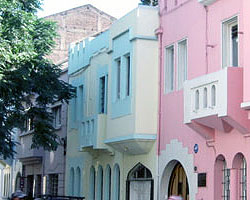 Vitacura (prime area) is one of the province's wealthiest and most fashionable residential areas. There are many lovely family houses as well as high-rise residential buildings in this northern neighbourhood of Santiago on the large Costanera Norte toll road, the city's main east-west thoroughfare. Vitacura has grown over the years. There are new residential sectors and wide roads that lead to the city centre. Upscale establishments provide all the needs of its residents expensive boutiques, posh art galleries, great restaurants and exclusive bars. Many of the best private Catholic schools in Chile are here.
However, the neighbourhood does not welcome all development. A proposal to allow the construction of tall residential buildings in certain sectors to accommodate the influx of newcomers was recently voted down by the residents, many of whom are quite resistant to change or to drastic change that would alter the character of their community prosperous, tree-lined, without large buildings that would affect the view or the traffic in the area. It's a dilemma many people want to move to Vitacura, but face the resistance of established residents who are unwilling to allow of dealing with too much change.
There is also plenty of entertainment, and a lot of trendy restaurants serving both local and international cuisine. The only drawback is that this exclusive area is difficult to access by metro, although buses connect to it.
---