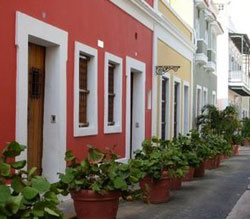 The island of Vieques has a lamentable military history. Formerly a U.S. navy base during World War II, it was used as a training area for gunnery and bombers using live ammunition and a site for war games. All this activity caused serious toxic pollution. In May 1999, the U.S. Navy admitted to testing radioactive depleted uranium shells on the island. Because of the exposure to radiation, Vieques has a high cancer rate, 26 percent above Puerto Rico's average.

Decades later, Vieques is free of pollution and has become a popular tourist spot. The island boasts of a number of scenic beaches, the most popular of which are Sun Bay Beach and Blue Beach.

Of particular interest to tourists is Mosquito Bay, whose uncountable population of microscopic, luminescent dinoflagellates light up when the bay waters are disturbed.
Aside from its many beaches, Vieques has a few historical sites. One is the Punta Mulas Lighthouse, which was built in 1893 and which has a powerful reflector imported from Paris in 1895.
El Fortin Conde del Mirasol has been renovated and now houses the island's museum, the Vieques Museum of Art and History and the Vieques Historic Archives. These sites serve as repositories for documents, photographs and other memorabilia related to the island's history.
---