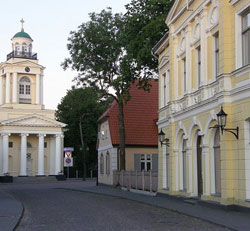 The Ventspils District is part of the Kurzeme Peninsula on the western end of Latvia, alongside the Baltic Sea. Of all the districts, it has the longest Baltic Sea coastline.

Ventspils is distinctly rural in character. It is the most richly forested of Latvia's districts, with over 60% of its area covered by woodland. Numerous lakes and rivers are found in the territory, including one of the country's major rivers, the Venta.

On the southeastern end of the district you will find the nature reserve Moricsala. It is one of the oldest protected nature areas in Europe (the oldest in Latvia), having been founded in 1912. The reserve is strictly concerned with research and preservation, and so no casual visitors are allowed.
---