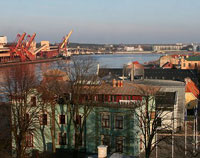 Ventspils City is found in northwestern Latvia within the country's historic Kurzeme region. A major port, it is located by the mouth of the Venta River where it flows into the Baltic Sea. The commercial importance of its ice-free harbour has made Ventspils one of wealthiest and fastest-growing cities in Latvia.

Ventspils traces its origins to a settlement which arose by a castle that was built by the Livonian Order around 1290. It is one of the oldest standing medieval castles, although it has seen many renovations over the centuries. Its current appearance dates to a 19th-century restoration. The castle houses the Ventspils Museum of local history and archaeology.
The Livonian Order castle stands along Ostas Street, the city's main seaside promenade. This is a lively walkway decorated with delightful fountains and striking artworks including a surprising number of unusual, even humorous cow sculptures. You can also spend your walk admiring the great numbers of international ships that are docked along the harbour.
Ventspils has a Blue Flag beach, where stands a lighthouse that is nearly 200 years old. Another attraction, the Seaside Open Air Museum, is a preserved traditional fishing village with rustic cabins, windmills, old boats, and a small train.
---