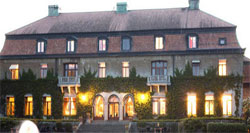 Västra Götaland County is made up of former counties Älvsborg, Gothenburg, Bohus, and Skaraborg.

The county's western coast is an arresting terrain of cliffs, and pine and oak forests by the sea. It has almost 30,000 islands, of which only 153 are inhabited.

Västra Götaland's capital is the beautiful city of Gothenburg (or Göteborg), a centre of culture, architecture, and urban leisure.
Gothenburg (Göteborg)
Rich in culture and history, the city of Gothenburg, or Göteborg, is the second largest Swedish city after Stockholm. It enjoys an oceanic climate, as it lies just by the sea, by the opening of Göta Älv, its main river.
Gothenburg is quite industrial; Swedes refer to it as "the worker's city" city. Manufacturing, trade and shipping are major industries here. Its port is the largest in Scandinavia, and it is the headquarters of car giant Volvo.
Gothenburg is also a college town. The University of Gothenburg is the largest university in Scandinavia, with a student population of over 24,000. Many of the nearby attractions are geared towards these young people, such as the Liseberg amusement park, and the Nordstans Affärscentrum, a complex of nine interconnected buildings that contains about 180 shops and 150 offices. Nordstans is Sweden's largest shopping centre,
Gothenburg has a number of cultural events, such as the annual Gothenburg Film Festival and the Gothenburg Book Fair. Architectural features in the city include the neo-classical Götaplatsen, a large square with a statue of the god Poseidon in its centre. Gothenburg's city theatre, library, concert hall and art museum all face the square. In the old district of Haga there are lovely cafés and charming wooden houses.
The Kungsportsavenyn, or Avenyn for short, is Gothenburg's main street. It stretches from the Götaplatsen and ends in a small park in the former heart of the city. A collection of pubs and night clubs are also found on the Avenyn stretch.
Bicycle paths may be found throughout the city. Nature reserves such as Lake Delsjön and Slottskogen Park have lovely areas for recreation and leisure.
---