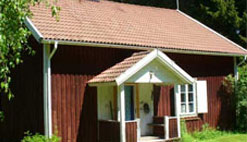 Värmland is probably the most picturesque of all of Sweden's counties. Its considerable natural beauty has inspired many an artist. The majestic landscape that has come to be associated with Sweden is found in full splendour in Värmland, with rising mountains complemented by beautiful lakes.

Värmland sits beside Norway and is occupied by almost the entirety of Värmland province, save for the municipalities of Karlskoga and Degerfors, which belong administratively to neighbouring Örebro.
It possesses the largest lake and the largest river in Sweden. The lake, Vänern, is fed by the streams that flow through the county. Klarälven, the river, flows steadily from Karlstad in the south to Sysslebäck up north. Fishing, canoeing and rafting are popular pastimes along and on the river. Trails for bicycles, hikers and horseback riders are very much in use along the river too.
The Arvikafestivalen is an annual summer music festival that is held in the bayside town of Arvika for three days in July. It has drawn big acts, and big crowds, since its debut in 1992.
Events such as the Swedish Rally and the European Rallycross Championship bring motoring enthusiasts to northern Värmland.
There is so much potential in this county, as real estate properties are relatively less expensive, as are business properties.
---