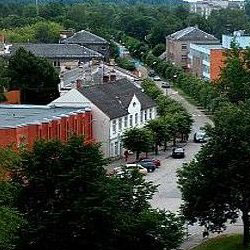 The Valka District is found in the Vidzeme region, which is an area of northeastern Latvia. It shares a border with Estonia in fact, the border technically cuts through the district centre town of Valka, although no border separation is in force.

A little over half of the Valka territory is covered in forest. The district offers many outdoor attractions, the most notable being the North Vidzeme Biosphere Reserve. It is the only biosphere reserve in Latvia, encompassing huge swaths of primeval and traditional Baltic landscape. The Salaca River flows through the reserve, and along its route you will find a beautiful canyon and the X caves the longest natural caves within Latvia. Lake Burtnieks, the country's fourth largest lake, is also in the reserve.
The town of Valka is rather unusual, in that it is a single town divided between two countries Estonia and Latvia. (The Estonians refer to the town as Valga.)
Valka is a quiet town surrounded by rich forests; woodcutting is one of its major industries. The town has a number of historical and architectural treasures. One is the St. Catherine Lutheran Church, originally constructed in 1477 but rebuilt and renovated several times since. It is a simple but charming structure that seems to blend into its natural surroundings. Other important buildings here include the Valka Culture House and the Baron von Wrangell house.
The town was the site of one of the key events in Latvian history: It was here on the 15th of November, 1918 that the Republic of Latvia initially raised its red-white-red flag and proclaimed its independence.
Smiltene
Besides Valka, the district has a few other towns. Smiltene is the site of the Kalnamuiža manor that was originally the property of a Courland nobleman, Baron von Medem. The manor is known for its astonishing neo-rococo interior.
Another notable structure, the Smiltene Evangelic Lutheran church, is spread out in the shape of a cross when viewed from the sky the only such church in Latvia so constructed.
Strenci
Strenci is one of the district's most picturesque towns. It lies along the banks of the Gauja, which is the largest river in the Vidzeme region. Strenci is actually known for its mental hospital, which is considered the best institution of its kind in Latvia. The hospital is surrounded by a lovely park. Strenci is rich in green areas; another one is the Strenci Arboretum, a nursery for trees and ornamental plants.
The town's most notable structure is the Strenci Evangelical Lutheran Church, a wooden building dating from 1907. The design of this church reflects, at least partially, the Art Nouveau style that was the vogue of its era.
Seda
The town of Seda tends to give visitors the feeling that they are visiting the Soviet past; most of its buildings exemplify the style of the Stalinist architecture of the 1950s.
---