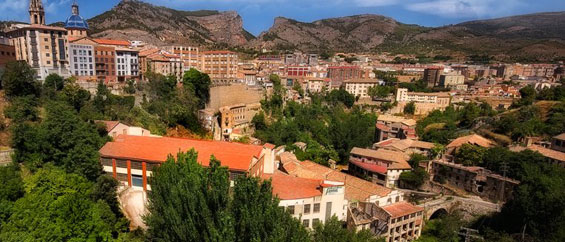 The region of Valencia is very scenic, with its glorious 500 km of coastline. Its climate is generally mild, mostly Mediterranean but cooler at higher altitudes. The coastal plain gets little rain except in spring and autumn. It can get very hot in summer.
Rich in produce and flowers, Valencia is called the Garden of Spain. It is known for its paella and horchata, a drink made from tiger nuts. Its towns Requena and Utiel are known for their grapes and wine.
The fashionable capital city of Valencia has many places of interest, including some reconstructed medieval buildings. The city's popular Turia Gardens are the setting for a fountain and some sporting venues. Near the Turia Gardens are Palau de la Música and the City of Arts and Sciences. The Plaça de l'Ajuntament is full of restaurants and bars and has a cinema, La Filmoteca, which shows classic movies. Plaça de la Reina, where the Cathedral is located, also has many restaurants and bars.
Valencia City is known for its bustling nightlife, mostly in the area of Cánovas and Joan Llorens, though students prefer to go to Blasco Ibáñez. The Carmen area is the place to go for bohemian and alternative nightlife. The beach and the port also offer nightlife in summertime. The local bar specialty is Agua de Valencia.
Located in an industrial zone, Valencia is a prosperous city that has seen a lot of improvement over the last decade. Despite its modernization, Valencia has retained its character and many interesting traditions.
Another attractive city is Castellón la Plana, the capital of the mountainous province of Castellón. The city has an interesting mix of buildings in the Gothic and Modernista styles along its maze of narrow streets. There are good beaches in Castellón la Plana as well. At its port area are some modern shops.
Valencia's resorts are especially popular with tourists. There are charming coastal towns from north to south. Puçol, a resort town in the north, has a casino hotel with a fantastic sea view. There are many apartments and hotels in Gandia, which boasts beaches with golden sand and plenty of sports facilities.
Oliva is another coastal town with sandy beaches, plus a historic area with whitewashed townhouses. It is near a popular golf course. La Pobla de Farnals has a marina where yachts can be moored. But of all Valencia's coastal towns, the most famous is Costa Blanca, perhaps Europe's most popular holiday destination.
There are marshlands and wetlands along the coast, one being Albufuera, which boasts a spectacular freshwater lagoon and is a good place for fishing and boating. These marshy areas attract many seabirds and waterbirds. There are also sand dunes at Saler and Guardamar.
Inland, Valencia's landscape is mountainous, with natural parks that attract hikers.
---