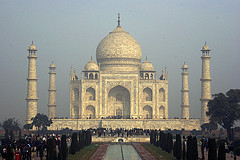 Uttar Pradesh is India's most populous state, with more than 190 million inhabitants. If it was country, Uttar Pradesh would be the world's 5th most populous. Eight of India's 14 prime ministers were from Uttar Pradesh, and the state is considered to be the Hindi heartland of India.

In fact Hinduism is believed to have originated here, and Uttar Pradesh hosts many towns of Hindi pilgrimage such Varanasi, Ayodhya, Mathura and Allahabad. It is also home to the world-famous pearl-white Taj Mahal, as well as many other important Mughal Empire sites such as Fatehpur Sikri and Agra Fort.
Uttar Pradesh has a sub-tropical climate. Nearly all the rainfall occurs in June-September, often leading to severe floods. When the monsoons fail, there are droughts.
Varanasi, seen by Hindus as the world's holiest city (where devotees can be seen bathing in the Ganges) has been a cultural and religious centre for thousands of years. Many prominent Indian philosophers, poets, writers, and musicians have resided in Varanasi.
Varanasi's old city near the banks of the Ganges is crowded, with narrow winding lanes, flanked by scores of Hindu temples. The central experience is on the ghats, where steep steps leading down to the river are used for bathing and for cremations. Atmospheric, confusing, eerie, amazing, for tourists and pilgrims alike, a visit is an extraordinary experience.
There are many other major historic and cultural attractions in the state, such as Agra Fort and the 16th century Mughal capital city Fatehpur Sikri, which (like the Taj Mahal) are World Heritage Sites. These are found around the city of Agra, which also the biggest spa in Asia. There a major Buddhist pilgrimage site nearby, the town of Sarnath, home to significant archaeological remains. It also has some ecotourism sites, such as wildlife reserves populated by tigers and leopards.
Uttar Pradesh's capital Lucknow, once dominated by the sophisticated, Persian-loving Shia Nawabs, is one of the top ten fastest growing cities of India.
Lucknow is considered one of India's most charming cities. It is trying to retain its traditional ways in the face of its rapid modernisation. It has a number of historically and culturally interesting monuments, including some fine examples of British architecture, such as the Hussainabad Clock Tower. Other sites of interest include the Picture Gallery, the State Museum, Lucknow Zoo, Ambedkar Memorial, and the Planetarium. Lucknow is also home to some of India's oldest schools.
---