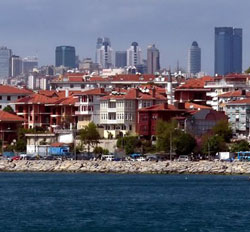 Üsküdar, the oldest residential district of Istanbul, is in the Asian side of the city. As compared to other populous districts, Üsküdar has a more relaxing atmosphere. Half a million people live here, mostly students, retirees, and commercial workers. As most of its constituents have to travel to other parts of the city on a daily basis to work, Üsküdar's docks are filled with ferries and motorboats and the roads packed with buses and minibuses everyday.

Many people also flock to Üsküdar for its busy shopping areas and restaurants. It also has significant Ottoman mosques.
Salacak
Salacak is one of the oldest settlements in Istanbul. It has a long promenade along the coast of the Bosphorus lined with restaurants, tea gardens, and cafés. The most prominent building here is the small, Byzantine-era Kizkulesi, or Maiden's Tower. It is now an upscale restaurant with 360-degree views of the Bosphorus. Opposite the tower is a 17th century mosque.
Behind Salacak's coast is a small area called Imrahor, where traditional Ottoman wooden houses still stand. Farther down the coast is Harem, which has a bus terminal and the Selimiye Barracks, where Florence Nightingale tended the wounds of British soldiers during the Crimean War. The barracks now houses the Florence Nightingale Museum.
Dogancilar
Doğancılar is a residential neighbourhood on the hills above Salacak in Üsküdar. There are lots of trees among the buildings, and it has a small park as well. Along the wide boulevard extending uphill are attractive shops, cafés, a mosque, the fire station, a school and a theatre.
Baglarbasi/Altunizade
Bağlarbaşi's name means grove yards, as the area used to be filled with gardens and orchards. It is known today for baklava and for patso, a sandwich made of hotdog and fries.
The middle-class neighbourhood was settled by Greeks, Turks, Jews, and Armenians in the 19th century, but the violent, mostly anti-Greek Istanbul pogrom of 1955 drove many of them away.
Today, Bağlarbaşi is a mixed residential and commercial neighbourhood, with houses, apartment buildings and office towers. Its 6-storey Capitol shopping and entertainment complex was the first modern shopping mall to be built in Istanbul's Asian side.
Bağlarbaşi has some well-known schools such as the Üsküdar American Academy and the state school Üsküdar Anadolu Lisesi.
Kuzguncuk
Kuzguncuk is a middle-class neighbourhood in Üsküdar. It is home to Turks, Greeks, Armenians, and a Jewish community served by two synagogues.
The neighbourhood is quite old and peaceful, with a low crime rate. Its narrow streets are flanked by small shops and antique wooden houses. Cafés, pastry shops, and seafood restaurants line the seaside leading to the ferry dock and a little waterfront park.
Kuzguncuk's nostalgic atmosphere delights artists and other creative individuals, who choose to live here or are inspired by the area.
Beylerbeyi
Beylerbeyi's name is often associated with the Second Empire-style Ottoman palace on the Bosphorus shore that was used as an imperial summer residence in the 1860s. The neighbourhood was a popular sultans' resort during the Ottoman period.
Many of the old seaside mansions have been renovated, while some traditional wooden houses remain the same, giving this Üsküdar district a quiet, attractive appeal. Around the pier, there are also cafés and fish restaurants for which the neighbourhood is quite famous.
Beylerbeyi has quaint shops, a hotel, a school, public buildings, and a police station. Its streets are still narrow, making traffic quite a problem.
Cengelkoy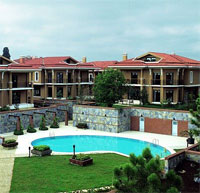 Çengelköy, which means "hook village" in Turkish, is on the Asian side of the Bosphorus in the district of Üsküdar. It was once a peaceful waterfront village with many Ottoman houses. Most have been lost to fire, but two of the mansions—Edip Effendi and Sadullah Pasha—still stand as examples of the city's Ottoman architectural tradition.

The residential neighbourhood has changed much, and continues to change as more housing estates go up along the seaside and the hills. Though traffic is now a problem, Çengelköy still retains some of its old charm as its famous pastry shops, fish restaurants, tea gardens, and seaside cafés offer lovely views of the Bosphorus.
Çengelköy was once famous for the small cucumbers grown here, but much of the land cultivation was sacrificed in the process of urbanization.
---