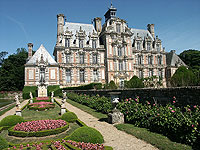 Upper Normandy (Haute-Normandie) is a region based mainly on agriculture and tourism. It is also home to the second largest French port, Le Havre. Another major port found in the region is Dieppe. It is an attractive port, regularly frequented by day-trippers from Great Britain and elsewhere. On Saturdays, Dieppe has a popular street market that focuses on seafood.
There are a number of charming seaside resorts in Upper Normandy, most notably Étretat, with its white cliffs, as well as Le Tréport, Fécamp, and St-Valéry-en-Caux.
Upper Normandy is a major gastronomic region, especially known for its prized butter, and its culinary signatures of sauce Normande sole Dieppe, and poule de Bresse. The region also produces rich cheeses:Camembert, Neufchâtel, Livarot, and Pont L'Evêque.
The regional capital, Rouen, is a seaport, France's fifth largest. Due to its port and the city's location close to Paris, Rouen is a major industrial centre, turning out an incredible variety of products from medicine to petrochemicals to textiles.
The city is home to the famous Rouen Cathedral, immortalized in a series of Impressionist paintings by Monet.
---