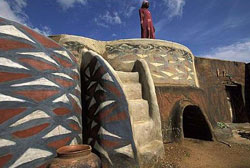 The Upper East Region is rather flat, except for its mountainous eastern portion. The geological features of Tongo, Bongo, Widnaba and Bawku are stunning. One unique rock formation is the Tongo Whistling Rocks, which consists of striking granite rocks that make a whistling sound when the wind blows through them in November and December.

The culture of Ghana's Upper East Region is fascinating. It is known for its wonderful handicrafts and many festivals. Among the distinctive crafts made here are Bolga hats and metal jewelry. The men practice a striking warlike dance and wear traditional smocks. Houses are still made of mud in the traditional style, painted with colourful designs.
There is even an amazing mud cathedral in Navrongo that was built in 1906, and now the last of its kind. Another attractive house of worship is the 300-year-old Sudanese-style mosque in Wuriyanga. The shrine to Naa Gbewaa, founder of the Mole-Dagbani tribes, is in a wonderfully serene setting. There are also some interesting historic sites here, especially the slave camps. A hollow baobab tree where people were kept before they were sold into slavery still stands in Widnaba. In a rugged area called Pinkworo, or "Rocks of Fear", can still be seen remnants of a slave market.
The region also has many wildlife reserves, where elephants and roan antelopes can be seen. At Paga there is a crocodile pond where the friendliest crocodiles in the country are said to live, easily drawn out of the pond by chicken as bait.
The region is warm throughout the year, with its tropical savanna climate. Temperatures can go as high as 40 degrees Celsius in the daytime and it is rather dry. The Upper East Region is still largely agricultural, maintaining the traditional way of life.
Bolgatanga
Popularly known as Bolga, the town of Bolgatanga is the capital of the Upper East Region. It has a bank, and its telecommunications facilities are good. Bolga lies in the Red Volta River Valley, a major elephant migration route. Along its southern border are the White Volta River and the cliffs of the Gambaga Escarpment.
Bolga has become known as the handicrafts centre of northen Ghana. The town and the villages surrounding it are the Ghana's main producers of leather products, straw baskets, and traditional smocks. Bolga has a huge central market where a wide variety of crafts is sold every three days. The town also has an interesting ethnological museum. The Roots Arts Gallery and Café is also a good place to see local paintings, beadwork, and other arts, while having a good cup of coffee. The town also has a library designed by the noted American architect J. Max Bond Jr. in the 1960s. But Bolga is still dominated by mud houses.
---