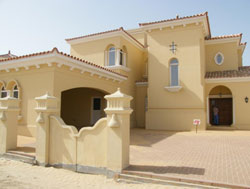 The least populated emirate in the UAE, Umm Al-Quwain emirate occupies only 1% of the federation's total land area. It has traditionally relied on fishing and date farming, but it is steadily being modernized, in order to rake in more income from tourism. Although it doesn't have its own international airport, the emirate is just half an hour's drive from Dubai. This makes it an ideal place to live for Dubai workers who can't afford the mostly pricey properties there, but all its projects are still under construction, especially in Khor Al Beidah. As such, Umm Al-Quwain is the emirate with the least number of expat residents—they make up "only" 60% of the population.
Like the other emirates, Umm Al-Quwain has its fair share of skyscrapers, as well as a free trade zone and modern basic infrastructure such as a fine road network, reliable healthcare facilities and good schools. Certain areas in the emirate remain devoted to traditional Middle Eastern activities such as camel racing, falconry and boat-building—dhows, or traditional Arabian sailing vessels, are a common sight in the Emirates' ports. There is a picturesque race track for camels in Al Labsa, with races held during the winter season.
Umm Al-Quwain's main charms are its natural attractions, which include clean, beautiful beaches along the Arabian Gulf, a lagoon that offers some of the best sailing in the UAE, and scenic mountain hiking areas around the lagoon's coast. Situated by the lagoon is the Marine Club, a popular expat hangout.
A handful of islands can be found off Umm Al-Quwain's coast, separated by creeks and fringed by mangrove swamps. One of the islands, Al Sinniyah, is considered ideal for bird watching.
Umm Al-Quwain City
The capital city of Umm Al-Quwain sits on a deep, kilometre-wide creek. The Ruler's palace and several government offices are here. In the old town, overlooking the sea and the creek running through the capital, is the emirate's old fort, now a museum.
The city's attractions include Dreamland, one of the biggest water parks in the Middle East; the Aeroclub, the UAE's first club for flying enthusiasts and its only skydiving centre; and the Motor Racing Club, which regularly holds dune buggy races.
---