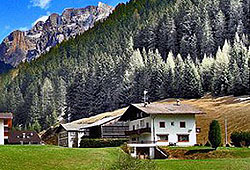 The lovely alpine province of Tyrol (Tirol) is a land of rugged mountains, deep valleys, lush forests, and picture-postcard villages. The alpine climate makes for snowy, freezing winters; summers are moderately warm and sunny, with unpredictable weather.

Tyrol is a major skiing region, and the popularity of its slopes rivals Switzerland's. Tyrol is packed with many top-class ski resorts such as Seefield, Kitzbuhel, St. Anton am Arlberg, Ischgl, and Zell am Ziller.

Innsbruck, the provincial capital, is also a popular winter ski centre lying just at the foot of high Alpine mountains, with six major ski slopes no more than an hour away. But if winter sports don't appeal to you, perhaps you'll be drawn in by Innsbruck's other attractions, such as the historic city centre, a concentration of striking late-Gothic and Baroque buildings and the legendary Golden Roof. Other city sights include the Hofkirche (Court Church), Imperial Hofburg Palace, Domkirche St. Jakob, and Ambras Castle.
After Vienna and Graz, Innsbruck is third largest university city in Austria. The famous University of Innsbruck was originally founded here in 1677 (later refounded in 1826). The city has a considerable student population, which supports a varied cultural and nightlife existence.
The city district of Hotting is one of Innsbruck's most desirable residential neighborhoods. Found north of the city centre, Hotting began its life as a charming village, and it has retained much of its rustic character while becoming a wealthy residential area. The quiet suburb is also home to the Alpenzoo (Alpine Zoo).
Amras and Pradl are also attractive village-like residential districts. Igls is another rustic suburb, though being a popular winter centre it is somewhat touristy in character. On the outskirts of the city, Olympisches Dorf (Olympic Village) is a modern residential development that was built when the winter Olympic games were held in Innsbruck.
---