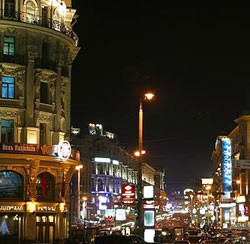 Tverskoy is an artsy and cosmopolitan district. A lively area populated by people of various ethnicities, it has a great variety of restaurants, cafes, and nightclubs. Tverskaya Street, which is a main thoroughfare and quite commercial, runs through this district. The famous and busy Pushkin Square is found on this street, which has been an exclusive street since it was rebuilt following the fire of 1812. The northern area is both an industrial district and working-class residential area.

Tverskoy is also home to numerous theatres and some museums. The Bolshoi Theatre, with its world-famous ballet and opera companies, is the most famous of these, holding court in the aptly named Teatralnaya (Theatre) Square. The nearby Maly Theatre for dramatic performances was built in the neoclassical style, and many of the surrounding buildings are in the same style. Toward the end of the 19th century, the public Sandunovsky Baths, built in the arched-ceiling style of Gothic architecture, were built here. The Moscow State Circus can be found nearby, on Vernadsky Prospekt.
Many historic buildings in this area have sadly been destroyed. The Novoslobodskaya area was rebuilt in 2000 with modern high-rise buildings. But there are plans to reconstruct Pushkin Square and Belorussky Terminal Square and add multi-level underground tunnels, with commercial spaces and parking.
Tverskoy is near the elegant residential area of Patriarshy Ponds. Another close neighbour is the district of Kitai-Gorod, which at one time was part of Tverskoy.
Tretyakov Gallery Area
This area's main streets can be quite busy, but the smaller lanes and alleys lead to charming old low-rise residential buildings. There are also two cinemas and several fine restauranst and cafés in the area, as well as the construction of new luxury developments. Its focal point, however, is the venerable Tretyakov Gallery, which is Russia's oldest art museum and houses one of the largest collections of Russian art in the world.
---