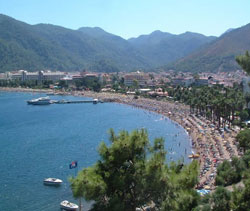 Tuzla is a small residential and industrial district in Asian Istanbul. Having vast coastal areas facing the Marmara Sea, the district's primary economic resource before the 1980s was fishing. As Istanbul became more industrialized, Tuzla embraced a more lucrative trade: ship building. Manufacturing and farming also became prominent industries, and factories sprang up here.

The town also has many fish restaurants and small shops. As in most of the city's districts, Tuzla's major housing structures are apartment blocks set in a web of narrow streets, though along the coastline there are also big villas owned by wealthy people from the city centre. The outlying beaches are popular retreats for locals and tourists alike.
Icmeler
İçmeler lies on the southwest side of Marmaris, right where the Mediterranean meets the Aegean Sea. Pine-covered hills surround the bay and the sand and shingle beach. The modern and sophisticated beach town has a relaxed village atmosphere with a European touch. Luxury yachts rest in the bay while international holidaymakers gather at the seafront bars, cafés, and restaurants.
İçmeler is quiet and not crowded. It is easy to notice how clean and well-maintained the resort is. The beach, footpaths and promenade are litter-free. Lovely gardens and flower beds temper the otherwise formal appearance of the hotels and apartment blocks.
Properties for sale in İçmeler are mostly 3- to 4-bedroom detached and semi-detached villas with private swimming pools and landscaped gardens, 2- to 3-bedroom duplex apartments with communal swimming pools, and 2- to 3-bedroom terraced houses, all enjoying mountain views.
İçmeler does not offer much in terms of nightlife, but it has a few treats for bargain hunters. It has a central shopping mall and a colourful Wednesday market with lots of goods, particularly textiles, to haggle over.
---