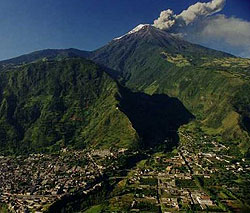 The province of Tungurahua is a mountaineer's paradise. The volcano that gave the province its name, along with other local peaks Carihuairazo, Cerro Hermoso, and Sagatoa beckon the most adventurous and ambitious mountain climber. The national parks of Sangay and Llanganates draw eco-tourists and naturalists with their unique flora, rivers, and wildlife.

The province's cool climate made it a favourite tourist destination until the eruption of Tungurahua in 1999. Nearby villages had to be evacuated, and some deaths were reported. The eruptions continued on a smaller level until they stopped in mid-2006. Soon the residents and the tourists were heading back to the area. Tungurahua has numerous large farming communities and is known for some of the country's liveliest Carnival festivities every February.
Ambato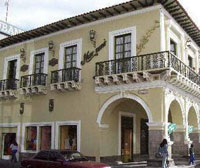 Ambato, known colourfully as "the land of fruits and flowers", is the capital of Tunguruhua. Its Monday Market is one of the biggest markets in the country, selling produce and items the city has become known for: fruit, flowers, handmade leather items, bread and cakes. It celebrates the Fiesta de las Flores y las Frutas every Carnival season.

The city has a lot of fountains, parks and gardens teeming with trees and flowering plants. It has two archaeological museums, an ethnographic house, and six old churches worth checking out. Hotels, restaurants, discos, and clubs enjoy a central location. The capital also has first-rate suburbs such as Miraflores and Atocha. Ambato has its own Supermaxi, a sign that the city has above-average residential standards.
Pelileo
The busy market town of San Pedro de Pelileo is 400 years old, but looks rather modernized. Aside from artisan products, Pelileo produces a wide variety of denim textiles and jeans, earning it the title of the blue jeans capital of Ecuador.
Baños
A tourist destination because it is a gateway to the Amazon, Baños de Agua Santa has a lot of activities to offer its visitors: mountain climbing and biking, horseback riding, rafting, kayaking. Some cultural sightseeing will also make the trip to the town worthwhile, such as visiting the basilica where one can view a collection of murals and paintings that depict the miracles performed by the Virgin of the Holy Waters.
Visitors to Baños can reward themselves with some pampering at the town's famous hot springs, and then go out for a bite to eat at any of its cafés, restaurants, and hotels. Just make sure to check newspapers before going to the area as Baños is only 8 kilometres away from Tungurahua's crater, which spewed out lava in 1999 and has threatened the small town ever since.
---