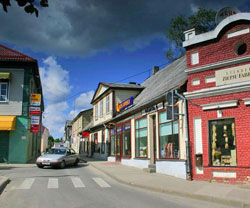 The Tukums District in western Latvia is made up of parts of several older regions the highlands of Kurzeme, the plains of Zemgale, and the Vidzeme-based parish of Lapmezciems.

The district has a large number of protected nature areas, including the Kaniera and Engures Lakes that serve as nesting areas for hundreds of bird species, the National Park of Kemeri, and the Nature Reserve of Abava which is found near the town of Kandava.


Tukums Town
The town of Tukums is the district centre. It lies on the edges of the Kurzeme, in a mountainous area, almost half of it covered by woods. Originally it arose as a settlement situated between the trade routes going from the mouth of the Daugava River to Prussia. By the time of the medieval era, after 1253, the settlement came under the rule of the Livonian Order, which had a stone castle constructed here in the 14th century. Another castle, Jaunpils, was built not far from Tukums in 1301; it is one of the few remaining castles of the Livonian Order that has preserved its medieval appearance. A 15th century fortified manor called Slokenbeka Estate is also found near the town of Tukums.
Tukums is a relatively calm, quiet, very green place, easy to walk around in.
---