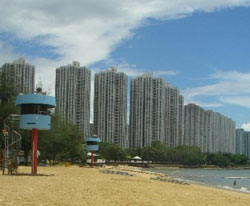 Only a small portion of the mountainous Tuen Mun district (a prime area) is developed, owing to the terrain. The main town, Tuen Mun, is built around the narrow river that comes inland from Castle Peak Bay. Along the river banks are a beautifully landscaped park, a vibrant town centre with shopping and amenities and a university.

The first inhabitants left behind a few of their temples, monasteries and nunneries, but the main attractions here are the beaches of the Pearl River Delta.
Golden Beach recalls a Mediterranean resort with a yacht club, shops, promenades and the ubiquitous high-rise condominiums with pools and clubhouses. The beach has fine white sand imported from Hainan Island. Butterfly Beach has a campground and a popular park. The small fishing village of Lung Kwu Tan, a waste recycling plant and two power stations take up some of the rocky coastline, but do not detract from the pretty shores.
---