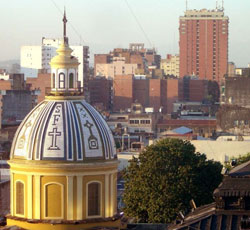 The small province of Tucumán has two different geographical systems: in the east, the flatlands of the Gran Chaco to the east; to the west, a mixture of the sierras of the Pampas and canyons of the Argentine northwest. Tucumán is largely undeveloped, although it is going through a strong growth spurt, pushed forward by its major international sugarcane industry.

While not exactly an urban centre, Tucumán is noted for its cultural and sport tourism facilities. It is a mid-stop for travellers visiting other provinces, and has the Panamerican Highway (Route 9) and the Benjamín Matienzo Airport to connect travellers to Santiago del Estero and Buenos Aires Provinces.
Tucumán has four important universities: the Universidad Nacional de Tucumán, the Universidad Tecnológica Nacional-Facultad Regional Tucumán, the Universidad del Norte Santo Tómas de Aquino, and the Universidad San Pablo Tucumán. Key destinations within the province include the city of San Miguel de Tucumán, the Campo de los Alisos National Park, the Valles Calchaquíes, Tafi del Valle, the Ruins at Quilmes, and the Diaguitas community in Amaicha del Valle.
San Miguel de Tucumán
Known as "El Jardín de la República", Tucumán's capital city is a largely working-class area and yet also one of Argentina's centres of culture. It has four universities, several churches, museums, theatres and performance centres, and a music festival held annually in the main square, the tranquil, tree-fringed Plaza Independencia.
For outdoors types, there are archeological sites and hiking trails in the valleys. The city is surrounded by sugarcane fields and citrus orchards.
---