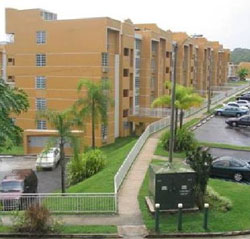 The town of Trujillo Alto (a prime area) is considered the second fastest-growing city in the metropolitan area, contradicting its nickname "El Pueblo de los Arrecostaos" ("The Laidback Town"). Although an agricultural centre, Trujillo Alto also specializes in the manufacture of electrical and electronic machinery, fabric and nutritional products. It also has stone quarrying facilities.

Trujillo Alto is most famous for its replica of the Lourdes Grotto in France. The La Gruta de Nuestra Señora de Lourdes is a pilgrimage site for devotees during the Holy Week.
The town is the home of Fundacion Luiz Muñoz Marin. The former governor's 4-acre private residence has been transformed into a museum containing photographs and memorabilia.
Other places of interest include Plaza de Recreo de Trujillo Alto, Carraizo Dam, the Carmelitas de San Jose Convent and Manantial de la Montaña Spring.
---