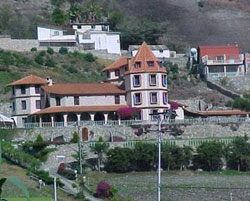 Trujillo is Venezuela's smallest Andean state. Its capital, Trujillo, is only two blocks wide but stretches for several kilometres and extends up the mountainside. This small city maintains the old charm of towns and villages where Spanish colonial houses provide a window to its past. Everyday life is slow paced and more quiet than in larger cities in other states.

The state has some great historic sites, starting with Trujillo Cathedral, where Catholic Church officially declared support for the Independence Movement. Well-known to tourists is the 155-foot-tall Monument to the Virgin of Peace built in honour of the state's patron saint. It stands on a hill called Virgin's Rock. Colonial architecture is also the pride of the town of La Plazuela, where old white houses with extended eaves and large wooden doors line both sides of the paved streets.
Specialties in Trujillo include queso de páramo, a rich cheese; chicha andina, a sweet drink made of fermented maize; and the sweet dessert currunchete, a candy made from brown sugar syrup.
---