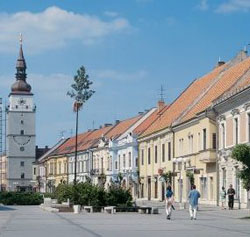 The Trnava region curls around Bratislava, separating it from the rest of Slovakia. It is half-urban, half-rural, with hills interspersed among its plains and lowlands. Summer activities and water cures are the region's most popular draws. Hotel accommodations with a focus on wellness and health are sprouting everywhere. The best-known spa resort in Trnava is Piestany. Its hot springs are reputed to cure neuropathy problems.



Trnava City
Trnava has long been a prosperous centre of trade, and in 1238 became the first town in the country to become a free borough. Known as "Slovakia's Rome", the city has 11 Christian churches and two Jewish synagogues that were all built in the 19th century.
In the town's oldest section, at the junction of the two most popular streets, Kapitulská and Hviezdoslavova, lies the mustard-coloured, two-towered St. Nicholas Parish Cathedral. Its cobbled, lantern-lit square with its many statues exudes an air of Old World tranquillity.
This is in direct contrast to Trinity Square, the town's old marketplace, which typifies the town's more cosmopolitan facets, where a Renaissance bell tower rises above the City Hall and the Grand Theatre.
Trnava is now Slovakia's centre of car manufacturing, thanks to major automobile manufacturers such as PSA Peugot Citröen setting up plants in the city. Real estate and local businesses have benefited from the arrival of the factories, which have boosted Trnava's economy.  
---