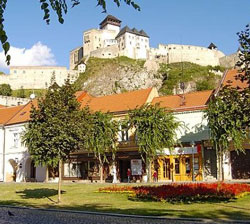 Trencin is a beautiful region, crisscrossed by rivers and mountain ranges. It has a temperate and mostly windy climate, with cold winters and balmy summers. Bordering on the Czech Republic, Trencin is one of Slovakia's wealthiest regions, and the second most industrialized. Its capital, Trencin City, is the cultural heart of the region, an ancient town that has been occupied since Roman times.



Trencin City
Founded in the second millennium, Trencin was once a Roman colony. It became a free royal city in 1412 under Matúš Čák, who ordered the building of the tower named after him. The old castle still exists, fully renovated yet still carrying a Roman seal as a reminder of what Trencin was once. Exhibitions, medieval concerts and shows are sometimes held here.
Another point of interest is the beautiful Catholic Church of the Virgin Mary, which sits atop the hill leading to the castle. Trencin's lovely Mierové Námestie, or Peace Square, is a good place to start exploring the city. The beautiful Piarist Church of St Francis Xaverský, with its high, two-towered façade, faces the square. In a Gothic castle looking over the town, the Trencin Museum houses a collection of medieval weaponry and firearms from the later centuries. The heart of the city is the lovely Brezina Park.
Trencin City is the base camp for hikes into Povarsky Inovéc, a wooded area around the Inovéc Mountain. At the foot of the mountain is the remarkably preserved ancient village of Selec.
Trencin City is also the location of Čachtice Castle, home of the Bloody Countess—the infamous Elizabeth Báthory, a 17th century noblewoman who had a penchant for bathing in the blood of young women to preserve her beauty. By the time she was arrested and imprisoned for life, her depraved bloodlust had led to the killing of over 600 young women.
---