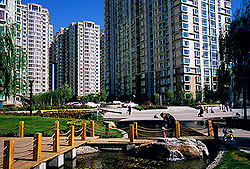 Largely an industrial area, Tongzhou covers seven industrial zones that focus mostly on high-tech industries and manufacturing. It is being redeveloped to incorporate a central business district, emphasizing the consumer retail industry.

Topographically on Beijing's North Plain, Tongzhou has extreme distinct seasons, including  scorching summers and nippy winters. Dust storms are common in this area.

Those considering moving to this part of Beijing will be happy to note that Tongzhou boasts of great education facilities. Aside from an incredible number of kindergartens, primary and high schools, Beijing Materials Institute, Beijing Institute of Music and Beijing University of Technology reside here.
One other facility to note is the Tuberculosis Treatment Hospital, which specializes in modern and traditional treatments of the illness.
Many of China's contemporary artists live and work in the village of Songzhuang, the largest artists' community in Beijing.
---