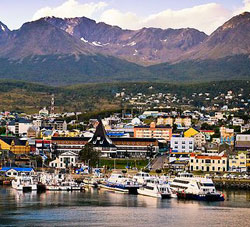 The archipelago of Tierra del Fuego is separated from mainland Argentina by the Strait of Magellan. It consists of the Isla Grande and some disputed territories (the Falklands and other islands that are currently British territories, some areas of the Antarctic). Because of its remoteness, it is very sparsely populated—the government has issued incentives such as tax subsidies to attract people to the area.

The main island is mostly inhabited by workers from electronics and home appliances factories. Its topography includes low mountains and sandy beaches, the foot of the Andes mountain range towards the centre, and some rivers and streams.
Ushuaia City
The capital of Tierra del Fuego is commonly regarded as the world's southernmost city. The city was created around a prison, its inmates being the ones who spent their time building it and the railway (known as the Train At The End Of The World). The jail is now a maritime and prison museum, popular with visitors to Ushuaia.
Despite its remoteness, Ushuaia has an important commercial port and an international airport. It has a good hospital and several schools. It has prime ski areas and ski resorts. In the summer, horseback riding and trekking are popular pursuits. The city is even a duty-free zone. Ushuaia is a modern city set in the most beautiful of surroundings. The Tierra del Fuego National Park covers vasts forests on the coast, dramatic waterfalls, high mountains and impressive glaciers and is the home of hundreds of plant and animal species.
Watching over the city is the red-and-white-striped Les Éclaireurs Headlight, or the Headlight At The End Of The World (many attractions in the city are given this apt designation), which stands on a promontory over the Beagle Channel.
---