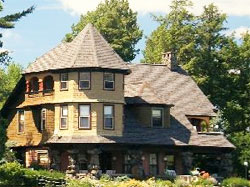 The only regency in Jakarta is the Thousand Islands. Despite its name, Thousand Islands consists only of 105 islands scattered over 45 kilometres in the Java Sea. Though the area is a marine national park, development has been allowed on 37 of the islands. Some islands have resorts, others are uninhabited while a number of them are privately owned by affluent Jakartans.

Those looking to catch some rays usually opt to visit this marine sanctuary teeming with tropical fish living in multicoloured coral high-rises. Popular resorts here are Pulau Bidadari, Pulau Ayer, Pelangi, and Bira.
Bidadari is the nearest resort island from Jakarta, 20 minutes by speedboat from Ancol's Marina. It is a quiet island with cottages nestled among trees providing great shade and comfort to its visitors. Pulau Ayer covers about 60 hectares of land and is famed for its beautiful sunsets. Pelangi is a lovely mix of white sandy beaches and verdant fields of palm and pine, sitting quietly in deep blue waters. Bira is popular because it is the only island in the area with a golf course.

All the resorts that are open to the public have comfortable accommodations, restaurants, pools, and water sports facilities.
Pulau Bidadari
The closest resort island to Jakarta is Pulau Bidadari, once the site of a large leprous settlement. The island is a very popular destination, but is mostly quiet during the week and the beach is not very good for swimming as sewage coming from Jakarta reaches its waters.
The other northern islands such as Pulau Kelor and Pulau Kahyangan can be reached by boat from Pulau Bidadari.

Pulau Ayer
Pulau Ayer in the northern Thousand Islands of Jakarta is very popular for day trips and has cleaner water than its equally popular neighbour Pulau Bidadari. There are lovely wooden cottages sitting on the beach or floating above the waters. Pulau Ayer is said to be the private resort of the ancient kings of the Thousand Islands. It can be reached by boat from Marina Ancol, Jakarta.

Pulau Sepa
The small island of Pulau Sepa belongs to the Thousand Islands regency north of Jakarta. It is surrounded by white sand beach, pristine waters, and coral reefs. It is one of the best diving spots in the Thousand Islands.
Pulau Sepa can be reached by speed boat from Marina Ancol, Jakarta.

Pulau Putri
The beautiful island of Pulau Putri ("Princess Island") in the Thousand Islands regency north of Jakarta is famous for its underwater glass tunnel. The aquarium is the only one of its kind in Asia where one can observe fishes and other marine life without getting wet.
The island has charming bungalows land and water sports facilities. Another great feature of Pulau Putri is its restaurants that sumptuous Western and Asian cuisines.
---