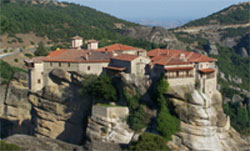 Thessaly has a long scenic coastline, and vast fertile plains backed by the Pindus, Ossa and Pelion mountain ranges. The climate is continental, with temperature extremes in winter and summer. There are often rainstorms in summer, watering the farmlands of this agricultural region known as the Breadbasket of Greece.

One of Thessaly's major attractions is Mount Olympus, the home of the gods. Another is Meteora, a cluster of two dozen Eastern Orthodox monasteries built on top of high rock formations. There are other historical sites as well. Many are found in Thessaly's capital, Larissa. An important economic centre, Larissa provides plenty of entertainment with its malls, tavernas, bars, and nightclubs.
Thessaly also has lovely traditional villages. By the Pagasitic Gulf is beautiful woodsy Mount Pelion, known in antiquity as the home of the centaurs. Now, mountain villages grace its slopes. The most well-known of these is Tsangarada, a lovely community shrouded from view by lush, colourful vegetation.
Many villages of the prefecture of Magnesia have impressive old houses with walls of stone and roofs of slate. By the sea, there are many lovely resorts. The azure waters off the coast of Magnesia's district capital Volos brings the tourists.
Another major archaeological site is the ruined ancient sanctuary Asclepius at Trikala, which is built on the site of the ancient town Trikki.
Great examples of Byzantine architecture are found in the towns of Karditsa and Kalambaka on the banks of the Pineios River. Smokovo and Kaista have spas. All in all, Thessaly is a relaxing green place that is rich in historic treasures.
Karditsa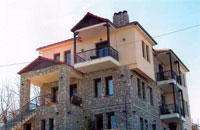 Karditsa consists of many farmlands on the Thessalian Plain, but it has its modern attraction. The man-made lake Plastira, at the west of its capital, Karditsa, is very popular for water sports and adventure. Several villages surround the lake, the most touristic of which is Neochori. It has a gorgeous view of Plastira and its beautiful, natural surroundings.
The neoclassical Dimotiki Agora is a very busy public market with rows and rows of seafood and meat stalls. It has Byzantine castle ruins on Aghios Athanassios, and the ancient Monastery of Petra Katafigiou. It has a few 19th century Turkish mansion houses.
Karditsa, the capital town, is very modern, with an array of business centres, shops, cafés, and hotels.
Larissa
Pineois River, an important trade route since ancient times, flows through the plains and valleys of the prefecture of Larissa. It is famous for its ouzo, a traditional Greek drink flavoured with anise or licorice.
Winter skiing is very popular here. It has a well-equipped ski centre in Vryssopoules.
Larissa, its capital, has traditional houses along its old streets, some retaining a Turkish vibe. There are several hotels and parks, as well as functioning ancient theatres. The city, though, does not rely on tourism.

Magnesia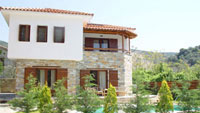 Healing powers have long been associated with Magnesia since ancient times, for its production of magnesium salts, then known as magnesia alba. The mountainous prefecture lacks river systems, but has the famous Pelion peninsula, known as the summer retreat of the Olympian gods.
Pelion is popular all year, especially in summer and winter. It is a great spot for holiday homes. Pelion has old mansions, fountains, and narrow, cobblestoned streets. Nearby, Skopelos has more than 300 interesting churches and monasteries.
 
Volos, the capital, is a dynamic city with old and new buildings at the seafront. It has a very efficient sea transport system and communication, making it a significant port in Greece. Scattered along the port and suburban streets are about 300 small restaurants called tsipouradika, famous for serving distilled grape liquor with seafood appetizers.
Trikala
Trikala, a rich landscape of high mountains and plains, is the site of the Meteora monasteries, a magnificent architectural feat rising on top of gigantic rock formations.
Trikala has other Byzantine architecture around the region, the most prominent of which are the fortress, restored numerous times, and a 12th century church lying on ancient Greek temple ruin in Porta Panaghia.
The modern city of Trikala has an ancient castle, a mosque, several monuments, and churches. An efficient railway system and roads brings the tourists here, where they can visit Varousi, the city's old quarter and the neighbourhood of the wealthy.
---