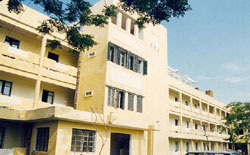 The district of Thanh Tri is well-known for its rolled rice noodle dish called bánh cuốn Thanh Trì.

While vegetable farming is still a big source of income here, Thanh Tri has lost the biggest percentage of agricultural land in Hanoi over the last decade. Industrial zones and low-cost housing have replaced rice fields. There are three rivers in the area, making the soil rich in nutrients.
The construction of buildings and non-porous roads has unfortunately led to a big flooding problem in Thanh Tri. Several areas have now become permanently submerged in water.
Cau Bieu
The industrial zone of Cau Bieu is facing rapid population growth as rural Vietnamese move here to find jobs. The demand for more low-income housing has also risen.
The Hanoi Housing Investment and Development Corporation is carrying out a construction project in Cau Bieu covering 15 hectares of land. Eight hectares are designated for housing units. The project's first phase will provide homes for 3,000 households.
---