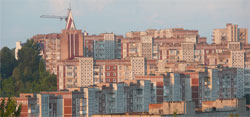 The oblast of Ternopil has over 300 mineral deposits. It has a flourishing building materials industry.

The oblast produces grains, sugar beets, potatoes and vegetables. Cattle breeding and raising poultry raising are also important economic activities, alongside remittances from workers abroad.
Interesting sites are the Verteb cavern, the Pochaiv Monastery, the Zarvanytsia spiritual centre, and the Vyshnevetsky palace – all of which had been nominated to make the list of Ukraine's seven wonders.
The oblast's administrative centre is Ternopil City.
---