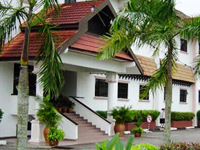 Almost all of Terengganu is lush and wild. An ecotourism heaven, it has the nation's highest waterfalls, Chemerung, and its lengthiest coastline at 244 kilometres, with many white sandy beaches.

The coastal town of Rantau Abang is ecologically important, as it is a nesting area for sea turtles, which come ashore to lay their eggs from May to September. There are other protected areas in the state's idyllic outlying islands, whose marine parks and fisheries offer some of the best scuba diving and snorkelling experiences.
Terengganu society is conservative, and its mainly Malay population is devoutly Muslim. The culture exhibits Thai influences, as it was once part of the Siamese kingdom. Generally there is freedom of worship, although liquor is not easily obtained in many areas.
Formerly one of the federation's least developed states, it relied mostly on fishing and farming. Now it has been modernized, as abundant oil and gas reserves were discovered offshore in the 1970s.
There are some archaeologically important sites in Terengganu, most notably area is also considered an important archaeological site in Malaysia; Neolithic tools dating back to 4,000 BC had been found in Bewah Cave near the vast, artificially created Kenyir Lake in western Terengganu.
It was mentioned by a Chinese trader in 1225 that Terengganu was ruled by Buddhists from Sumatra. The city seems to have turned Islamic not long afterwards, based on information on the Terengganu Stone, discovered in the late 19th century and dating from 500 years earlier, which not only encouraged Islamic practice but also provided 10 basic laws.
However, the laws on the Terengganu Stone are not wholly Islamic, but also reflect Malay and Javanese customs. The stone can be viewed at the Terengganu State Museum complex, one of the biggest museums in Malaysia, in the state capital Kuala Terengganu, which is also home to the 19th century royal palace, the Istana Maziah.
The state is a showcase of traditional handicrafts and sports, such as songket-weaving, batik-making, wood carving, top-spinning and kite-flying. Although fishermen these days use modern motorboats, the boat-building tradition is alive, especially on the island of Pulau Duyung in the Terengganu River.
Coastal towns used to have their own craftsmen skilled in producing intricately carved wooden vessels, known as bangau. Their designs and skills continue to be handed down, adapted to contemporary times.
---