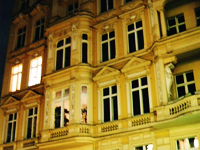 This is a bustling area with plenty of bars and restaurants. Real estate and rental prices are quite affordable, making it attractive to older singles and younger families. It is dominated by apartment blocks in classic architectural styles.

Tempelhof International Airport is in the district's north, but operations will cease in 2011, after the Berlin Brandenburg International Airport is completed. The main north-south railway line into Berlin runs through Tempelhof-Schoneberg. There are many major industries, such as a Daimler assembly facility.
Landmarks and attractions include the Trabrennbahn Mariendorf, a famous horse race track; Ufa Fabrik, an international cultural center; The Ullsteinhaus, a former newspaper and printing plant, now used as an exhibition and office space; The Volkspark Mariendorf, which contains sports grounds, including the Volksparkstadium Berlin; and a toboggan track and swimming pool.
Schoeneberg City Hall was the Headquarters of the Allied Control Council and following the political division of Berlin until reunification in 1990, and the political heart of West Berlin. The Refugee Processing Center, classified as a museum of national significance in 1998, received over 1.5 million refugees flee communism before permanent re-settlement in the West.
The area around Nollendorfplatz was a main centre of gay life in pre-war Berlin and was the background location for the events portrayed in the film "Cabaret".
Schoneberg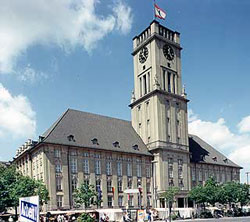 Schoneberg, in the north of the borough, bordering Mitte, grew from a very old district and became part of Berlin in the 1800s. It suffered little damage during the wars, and has many well-preserved buildings.

A scenic 19th century bourgeois quarter, and a popular place to go for an afternoon coffee, an evening cocktail, or a bit of night-time partying - cafes and bars here are always full. Schoneberg has a number of interesting residential neighbourhoods. One is Rote Insel (Red Island), known for its traditional left-wing character and its five-storey apartment buildings constructed from 1890-1920. Other interesting neighbourhoods include the Bayerisches Viertel (The Bavarian Quarter) between City Hall and the Wittenbergplatz, and the "Jewish Switzerland" where many upper middle-class Jews took refuge from Eastern Europe from 1885 and 1925.
Lindenhof has many small and medium-scale businesses, including restaurants. There's a much larger commercial zone around Wittenberg Platz and Tauentzienstrase. The KaDeWe (Kaufhaus des Westens) store on Tauentzienstrase is one of the biggest and most popular department stores in Europe.
In Nollendorfplatz, Berlin's gay centre, there are plenty of bars, pubs and stores. The Nollendorfplatz area is where Christopher Isherwood used to live and wrote "Goodbye to Berlin". The Nazis closed the gays down, but gay life has since triumphantly returned.
Friedenau
Friedenau is a small neighbourhood with mostly early 20th century architecture. Many traditional-style Berlin tenements, townhouses built in the 1870s, and more modern, simple single-family houses can be found here as well. Though much was destroyed during the war, rebuilding in the area kept to the dominant style. A leisurely area with a big city character, this area is popular among intellectuals, artists, and young families.
Tempelhof
Tempelhof is where the airport is located. It is largely an industrial area, with the Teltowkanal running through it. It is not yet known how the area occupied by the airport will be used after 2011.
Mariendorf
Mariendorf is famous for its horse racecourse, Trabrennbahn Mariendorf, and its sports facilities at the Volkspark Mariendorf. Its northern area is crowded with multi-family housing, while the south has a mixture of single family homes, two and four-family houses, and 1970s residential buildings. Elsewhere in the district are commercial and industrial zones.
Marienfelde
Marienfelde began as a tiny village. The population reached 10,000 by World War II, but extensive wartime devastation greatly reduced it. Houses and apartment buildings went up during 1950-1970s, the population reached over 33,000 by 1989. An industrial area was built here in the 1970s around Nahmitzer Dam and Motzener Road. More recently, a business park housing over 200 companies has been built here.
Lichtenrade
Lichtenrade, on the outskirts of the city. is filled with compact housing estates, and a major 1970s high-rise development, the John-Locke-Siedlung development.
---