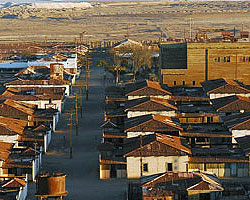 Tarapaca is a northern desert-like region bordering Bolivia. This region sees almost no rain, though there are fine beaches on the foggy coast that are excellent for surfing, and three major rivers run through the region. Fishing is a major source of livelihood here, but Tarapaca's main industry is mining for sodium nitrate, or saltpeter, in the highlands.

These saltpeter deposits are found mainly in the Pampa de Tamarugal, a high desert plateau between the Chile Coast Range and the Andes. Settlements have been formed around this area, including the tiny town of Belén, the only community on the plateau that was founded by Spaniards. The saltpeter mining and preparation industry employs many Tarapaca residents, as does silver mining.
Tarapaca is divided into two provinces: Iquigue and El Tamaragual. Handsome old buildings can be found in both municipalities. The historic settlements of Humberstone and Santa Laura that once centred on Iquigue's saltpeter industry have been named World Heritage Sites by the UNESCO. 
Tarapaca was once part of Peru, until it was annexed by Chile in the late 19th century during the War of the Pacific, also known as the Saltpeter War, in which Chile fought against Peru and Bolivia for the saltpeter deposits of this region.
---