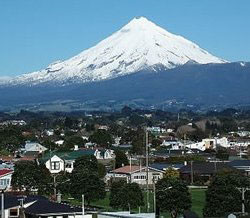 The Taranaki Region, located in the west of North Island, encompasses the area surrounding the volcano Mount Taranaki, also known as Mount Egmont.

Mount Taranaki is the region's main attraction. It has a near-perfect cone and a snowy summit. Along its middle slopes is the Goblin Forest, noted for its gnarled trees and thick swatches of trailing moss. On the southeastern slopes is Dawson Falls Roadend, which has a visitors' centre, a hydroelectric power station and, nearby, the lovely waterfall it was named after. From Dawson Falls you can walk down to Wilkies Pools, a series of cold natural pools.
The region is divided into North Taranaki, consisting of New Plymouth, Inglewood and Waitara, and South Taranaki, consisting of Hawera, Stratford and Eltham.
Taranaki's main city is New Plymouth, which has won local and international awards as an excellent place to live in. Typical in Taranaki, New Plymouth is dairy farming country, but it also has black sandy beaches and beautiful botanic gardens. New Plymouth is a popular place for festivals and concerts. Many of them are held at the grass amphitheatre of lovely Pukekura Park in the centre of the city. The seven-kilometre Coastal Walkway, stretching almost the entire length of the city by the Tasman Sea, is a great place for sightseeing and leisure.
---