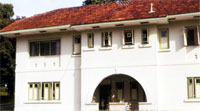 Teochow Chinese braved the dangers of Tanglin (a prime area) to clear it of tigers during the colonial years and claimed the territory as theirs. They were soon followed by Europeans, particularly Scotsmen. Soon after, nutmeg, pepper, gambier, and spice plantations sprang up in the area. These in turn eventually gave way to exclusive neighbourhoods for the wealthy.
Today, Tanglin is a quiet, upscale neighbourhood of grand houses with tall fences and sizeable gardens. Several embassies and high commissions have chosen to locate here, close to Holland Village and Orchard. Tanglin's luxury properties include Tanglin Hill Condominium, Tanglin Hill Meadows and Gallop Court. If you are looking for a place in the area, search around Balmoral, Grange Road, Holland, Orchard Boulevard, River Valley, and Tanglin Road.
Tanglin is also a good place to go if you are in search of good buys. Tanglin Shopping Centre has several arts and antiques shops. Tanglin Mall and Tudor Court also sell high-end antiques and furniture.

Being a private neighbourhood, there are few places to go to for entertainment here. The Botanic Garden and Dempsey Road areas are good options for a quiet night with friends and family.
Thomson
Just outside the city centre, Thomson contains a good mix of residential properties, hotels and shopping areas. It is cheaper to live here than in the Central Are, although it is still more costly than in other parts of Singapore. Residences include condominium buildings and serviced apartments like the Compass at Chancery and the Espana.
The shopping centres United Square, Goldhill Plaza and Goldhill Centre are in Thomson.
Tiong Bahru
Built as public housing units in the 1930s, Tiong Bahru Estate was the first project undertaken by the government for mass housing under the supervision of the British-administered Singapore Improvement Trust. In its heyday, well-off families occupied the area.
Tiong Bahru's housing units are distinguished by their Art Deco and shophouse designs. The flats have rounded balconies, flat roofs, spiral staircases, light wells and underground storage and shelters.
Tiong Bahru today has a sizeable senior population and is also a popular area for bird-watching. The hawker stalls nearby are known for their good food.
---