The Talsi District is part of the Kurzeme region, an area in western Latvia. It borders the Gulf of Riga on its northern edge. More than half of its territory is still covered in forest. The district has several small towns, including the district centre, Talsi.
Sabile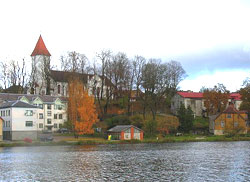 Sabile was a site of a castle of the Livonian Order during the medieval period. The castle was destroyed in the 16th century. The Sabile castle mound and some ruins remain; the mound offers a lovely view of the town and the surrounding Abava River Valley. Sabile is home to the northernmost open-air vineyard in the world, according to the Guinness Book of Records. The town has been a wine-growing centre since the 1500s.


Talsi
Talsi, or The Town of Nine Hills, lies on the shores of lakes Talsi and Vilmui?as. It is a charming town of cobbled streets and quiet parks and gardens. The Talsi Castle Mound rises in the heart of town, offering a good vantage point for taking in the scenery.
---