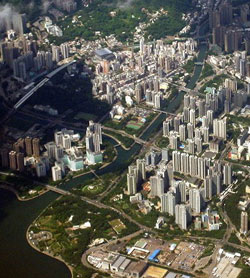 The district of Tai Po consists of 24 islands aside from the peninsula area surrounding Tolo Harbour. Most of it is mountainous park area and has not been developed; Tai Po is among the least densely populated places in Hong Kong. Residents are concentrated in Tai Po New Town along the reclaimed banks of the Lan Tsuen River.

Here are gated communities and the ever-present high-rise apartment buildings. In the older parts of the district, 5-storey shophouses line the streets and do brisk business. Neighbourhood shopping streets rather than large enclosed shopping centres give this area a cosier feel. The Tai Po Waterfront Park has an amphitheatre and a wide promenade.
Tai Po is only 16 kilometres from the tip of Kowloon and is well-connected with four MTR stations.
---