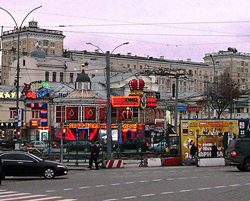 Taganksky lies between two rivers, Moskva and Yauza. Taganskaya Square, where the famous Taganka Theatre is found, is at the heart of this district. The theatre is very popular among Muscovites, and despite its history of staging politically charged performances, it has survived to this day.

The architecture of this neighbourhood is fascinating and varied. There are old churches and monasteries, Art Nouveau structures, Stalinist high-rise buildings, and unusually designed Metro stations. Traffic-free Shkolnaya Ulitsa is full of 19th century houses, plus a market and a good restaurant.
The 18th century Church of St Nicholas by Taganka Gate and the 17th century church known as Assumption in the Potteries, while not perfectly preserved, retain some of their original beauty. Other splendid old churches include St Sergei, with its bright blue exterior surrounded by colourful gardens and filled with vibrant frescoes inside. The Cathedral of the Saviour has stood here for more than 600 years, while the Church of the Archangel Michael houses a collection of icons. Another historic religious structure here is the medieval Andronikov Monastery.
Around the corner from the Kotelnicheskaya Embankment, where a wonderful view can be seen over the river, is the Kotelniki Apartment Block, a skyscraper built in the 1950s consisting of elegant apartments with chandeliers and opulent plasterwork. The Gastronom, a neighbouring food shop, is decorated in much the same style.
Another attraction here of a totally different character is the fascinating Tagansky Protected Command Post, now a Cold War Museum with 7 kilometres of tunnels running under it, having been a centre for underground surveillance.
---