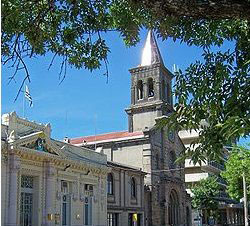 Landlocked, north-central Tacuarembó is Uruguay's most extensive department. It is bordered by the departments of Rivera, Artigas, Salto, Paysandú, Río Negro, Durazno and Cerro Largo.

Tacuarembó's economy is centred on the cattle and sheep industry, with meat processing and meat refrigeration facilities in the area. There are also a number of rice and saw mills. The main urban centres of Tacuarembó are the capital city of Tacuarembó, Paso de los Toros, and San Gregorio de Polanco.
Tacuarembó City
Tacuarembó City is the centre of finance and culture in the department of Tacuarembó. Much of the trading of livestock is done in the city.
Sites of interest include the popular swimming resorts of Laguna de las Lavanderas and Iporá. Within their vicinity is the giant subterranean cave of Grutas de los Helechos. Noteworthy museums include the Geoscience Museum and the Museum of Indians and Gauchos, which holds exhibits of photographs and relics of indigenous Indian and gaucho culture.
Tacuarembó City is the site of the yearly La Patria Gaucha, which celebrates the country's Gaucho culture.
Valle Edén
The small barrio of Valle Edén is 26 kilometres from Tacuarembó City. It is a picturesque town near the lovely green hills of Cerro Batoví and Cerro Cementerio. The latter is the site of an Indian burial ground. It is also home to the 8-hectare man-made lake Lago de la Juventud, near which there are houses for rent, an inn with a pool, and camping sites.
Valle Edén's claim to fame, however, is that it is supposedly the birthplace of world-renowned tango singer, Carlos Gardel. While historians say that Gardel was actually born in Toulouse, France, residents claim that the singer was born in the town.
The Afro-Brazilian religion Umbanda is practiced in Valle Edén.
---