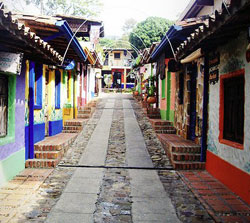 The state of Tachira is in western Venezuela's Andean region. Its weather is pleasant almost all year round. Its rich soils account for its agricultural success, though meat production, textile and shoe manufacturing, and the ceramics industry also fuel the economy.

Its capital, San Cristobal, is situated near the country's border with Colombia. It is connected to the rest of the country through the Pan-American Highway and three airports. The rich city's strategic placement allowed it to evolve into an important centre of commerce, service, and education. It has a large student population attending its public and private post-secondary schools, such as the Experimental University of the Tachira and the Catholic University of the Tachira. Here architecture varies – from Spanish buildings to gothic style churches to modernist facades.
Tachira's most popular event known to tourists is the Feria Internacional de San Sebastian, the largest fair in the country which combines agricultural and commercial trade, artistic festivals and sports like bullfighting and bicycle race.
---